Premium Pennant Lines
Classic multicolor pennant strings! Select a custom color combination or pattern that matches your branding. No hidden fees or setup charges. Also check our economy pennant strings and all our pennant lines for dealers.
Select a style
Select a shape for your pennants. Choose any custom color combination you wish below.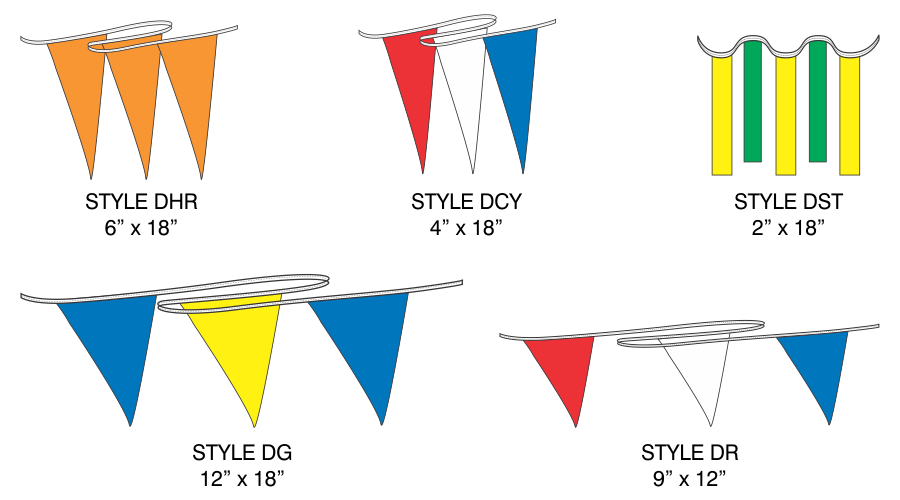 Available colors
Select a custom combination from any of the following material colors. For a rainbow pennant, choose "Assorted colors" as the first color option.
Red
Orange
Yellow
Green
Blue
White
Black
Neon Red
Neon Orange
Neon Yellow
Neon Green
Neon Purple
No hidden fees!
Full price shown − no additional fees or setup charges are added.
Product details
Material: 8oz Plastic-coated v

inyl

Select your own color combination or pattern, or choose "Assorted colors" for rainbow pennant
Fluorescent or Standard colors available
Sag-resistant rope with White poly header tape
Flags per line:

DHR-60: 40, DHR-110: 80
DCY-60: 52, DCY-110: 100
DST-60: 45
DG-30: 12, DG-60: 24
DR-60: 36, DR-100: 64

Made in USA
Standard production time is 5−7 days after approval (excluding shipping)