Metallic Pennant Lines
Metallic multicolor pennant strings. Select a custom color combination or pattern that matches your branding. No hidden fees or setup charges. Also see our premium pennant lines and all dealer pennant lines.
Select a style
Select a shape for your pennants. Choose any custom color combination you wish below.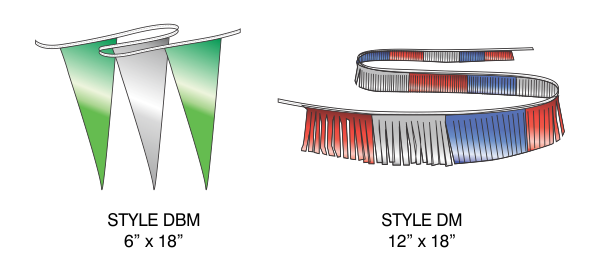 Available metallic colors
Select a custom combination from any of the following material colors.
Red
Orange
Yellow
Green
Blue
Silver
Turquoise
Purple
Berry
Magenta
No hidden fees!
Full price shown − no additional fees or setup charges are added.
Product details
Material:

4mil Polyethylene pennants

Select your own color combination or pattern
Sag-resistant rope with White poly header tape
Flags per line:
Made in USA
Standard production time is 5−7 days after approval (excluding shipping)